News/Press
AMES releases are published to provide
information about AMES in the media.

Press Releases

Video Releases

Newsletters


Newsletter 21
February 2015

EASA 145 Approval for AMES Production and Logistic Services

AMES POA received its EASA Part 145 approval to offer a complete life cycle management for all AMES products.
This approval allows our Production Organisation to do any repairs of AMES produced parts in our facility or onboard your aircraft. The approval was granted by Austro Control in the name of EASA on 02 February 2015.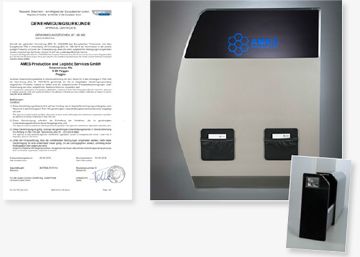 AMES CAMO

AMES CAMO is pleased to announce that in December 2014 we have received the Validation Certificate from the States of Guernsey for our CAMO and so we are able to offer additional services to our already granted certificates from the Government of Bermuda and Cayman Islands.

For more details please contact camoservices@ames.co.at.

AMES Cooperation with Aviation Graphix, Ireland

Due to our new cooperation with Aviation Graphix from Shannon, Ireland we are now in a position to use a newly opened production facility located next to our AMES headquarter in AUSTRIA. Any decals, placards or signs can be produced according your requirement and delivered with an EASA Form 1 from our AMES POA. This enables us to further improve lead times and quality of any placard, decal or signage production.

Download AMES High 21


Newsletter Archive
Newsletter 37
Newsletter 36
Newsletter 35
Newsletter 34
Newsletter 33
Newsletter 32
Newsletter 31
Newsletter 30
Newsletter 29
Newsletter 28
Newsletter 27
Newsletter 26
Newsletter 25
Newsletter 24
Newsletter 23
Newsletter 22
Newsletter 21
Newsletter 20
Newsletter 19
Newsletter 18
Newsletter 17
Newsletter 16
Newsletter 15
Newsletter 14
Newsletter 13
Newsletter 12
Newsletter 11
Newsletter 10
Newsletter 9
Newsletter 8
Newsletter 7
Newsletter 6
Newsletter 5
Newsletter 4
Newsletter 3
Newsletter 2
Newsletter 1