News/Press
AMES releases are published to provide
information about AMES in the media.

Press Releases

Video Releases

Newsletters


Newsletter 23
May 2015

AIX Hamburg 14 – 16th April 2015, Thank You!

The interest of our customers was quite impressive at this year's Aircraft Interiors Expo in Hamburg. We have already taken part in this Expo for the fifths time and thanks to you we have been very busy for all three days.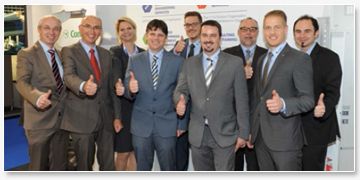 AMES Flex-Team Upgrade

To better satisfy the customer demand we have increased our capacity of the AMES Flex-Team, which enables us to offer shorter lead times for small cabin changes and medium size projects to our customers. This service is available as of now, for any requirements please contact us via services@ames.co.at

New Cabin Products

Full height stowages and partitions for the long range fleets, crew rest facilities for A330 and B767 have been included into our portfolio.

Structural and Installation Parts

To improve our portfolio we have a wide range of structural parts and installation past available for changes to the existing or installation of new IFE systems and integration of internet on board services.





AMES Cooperation with Aviation Graphix, Ireland

Due to our cooperation with Aviation Graphix from Shannon, Ireland we are now in a position to use the new production facility located next to our AMES headquarter in AUSTRIA. Any decals, placards or signs can be produced according your requirement and delivered with an EASA Form 1 from our AMES POA within very short lead times.

For further details please contact us via e-mail on services@ames.co.at or see our website on www.ames.aero.

Download AMES High 23


Newsletter Archive
Newsletter 37
Newsletter 36
Newsletter 35
Newsletter 34
Newsletter 33
Newsletter 32
Newsletter 31
Newsletter 30
Newsletter 29
Newsletter 28
Newsletter 27
Newsletter 26
Newsletter 25
Newsletter 24
Newsletter 23
Newsletter 22
Newsletter 21
Newsletter 20
Newsletter 19
Newsletter 18
Newsletter 17
Newsletter 16
Newsletter 15
Newsletter 14
Newsletter 13
Newsletter 12
Newsletter 11
Newsletter 10
Newsletter 9
Newsletter 8
Newsletter 7
Newsletter 6
Newsletter 5
Newsletter 4
Newsletter 3
Newsletter 2
Newsletter 1