News/Press
AMES releases are published to provide
information about AMES in the media.

Press Releases

Video Releases

Newsletters


Newsletter 17
December 2013

New AMES Products for "B737 Sky Interior" Cabin Reconfigurations

Recent customer enquiries about cabin products for the new B737 Sky Interior encouraged AMES to design, certify and produce a number of new products for this interior configuration of the B737. The new AMES products for B737 Sky Interior cabin reconfigurations will be superlight designs. The new designs using latest materials and manufacturing techniques will be 30% lighter than existing components.
All AMES products can be delivered – starting in the 2nd quarter 2014 - within a lead time of only 6 to 8 weeks - depending on the level of customization - including EASA Form 1 and approved engineering documentation for installation.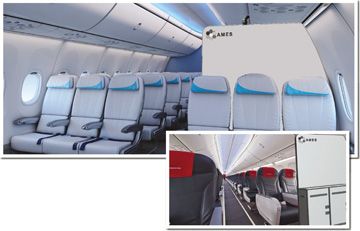 The following products supporting B737 Sky Interior cabin reconfigurations will be developed by AMES:
- Partition and windscreens
- Curtain headers including curtains
- Light weight moveable class divider and curtains
- Stowages

For the upcoming Christmas period our DOA and CAMO offices and also our production facility will be closed from 23 December 2013 and we will be available for our customers as of 02 January 2014.

Download AMES High 17


Newsletter Archive
Newsletter 37
Newsletter 36
Newsletter 35
Newsletter 34
Newsletter 33
Newsletter 32
Newsletter 31
Newsletter 30
Newsletter 29
Newsletter 28
Newsletter 27
Newsletter 26
Newsletter 25
Newsletter 24
Newsletter 23
Newsletter 22
Newsletter 21
Newsletter 20
Newsletter 19
Newsletter 18
Newsletter 17
Newsletter 16
Newsletter 15
Newsletter 14
Newsletter 13
Newsletter 12
Newsletter 11
Newsletter 10
Newsletter 9
Newsletter 8
Newsletter 7
Newsletter 6
Newsletter 5
Newsletter 4
Newsletter 3
Newsletter 2
Newsletter 1