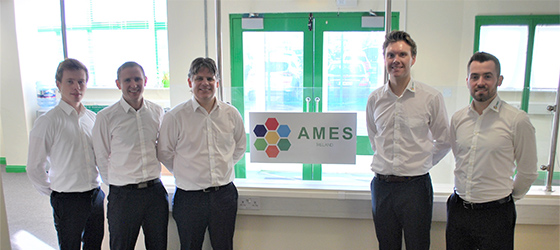 The Irish Aviation Authority issued EASA Part M CAMO approval (IE.MG.123) to manage the Continued Airworthiness for A320 family and the B737 NG as well as B737 Max aircraft. Our AMES team in Ireland under the lead of Dave Tierney (Accountable Manager), Niall Fanning (Continuing Airworthiness Manager) & Ray Daly (Quality Manager) managed to gain this approval for CAMO services last month.

Walter Starzacher AMES President congratulated the team and stated, "this is a very important achievement towards our unique and most flexible One Stop Shop concept."

Dave Tierney, COO and Accountable Manager AMES Ireland stated, "the milestone of achieving our CAMO Approval wasn't without its challenges with the onset of COVID-19. I would like to thank the Irish Aviation Authority for their flexibility and support given within this challenging time. AMES Ireland look forward to supporting our Customers with CAMO services which will undoubtedly complement our ongoing support regarding Part 21 DOA and POA disciplines. The future looks very bright for AMES Ireland's Customer Support Office and the AMES Group as a whole with the offering of this additional service."

We are planning to increase our CAMO work scope regarding aircraft types as well as different registries over the coming years. This will include additional qualified staff for our Irish Customer Support Office at Dublin Airport.