As a true one-stop-shop for our customers worldwide, the AMES Group provides a wide range of services to the aviation industry in the fields of EASA Part 21J Design, Part 21G Production, Part 145 Maintenance, Part CAMO and also in Consulting & Training.

The continued investments and developments of the Group in the past has made it possible for AMES to demonstrate exceptional quality and expertise in more than 2000 successfully completed engineering and certification projects of our AMES Part 21J Design Organization, since we attained our EASA approval back in 2006.

Since 2009 our EASA Part 21G Production Organization has developed an extensive product portfolio for cabin conversions. With state-of-the-art materials and streamlined production & customization processes we offer the shortest lead times in the industry for our product portfolio.

Combining Part21G Production and Part 21J Design Organization Approvals under one roof, ensures that our products are released with EASA Form1 and delivered along with EASA approved paperwork, ready for installation on your aircraft.

Our team is constantly working on expanding our portfolio with additional innovative products at the request of our customers. From a first idea until the aircraft installation – we support our customers with tailor-made solutions matching their needs and ensure a seamless integration.

With our EASA Part 145 Maintenance Organization we are able to repair, maintain and overhaul all our products. We offer a complete product life cycle support, keeping our products flying longer.

AMES Ireland with its Part CAMO approvals is supporting Airlines and Leasing Companies with ensured airworthiness, registration changes and aircraft transitions. With our team of qualified Part21J and CAMO staff based in Dublin we are close to the growing leasing industry in Ireland enabling us to provide our customers with all the support required.
Utilizing our extensive experience in diverse areas of the international aviation community, the AMES Group can provide Consulting and Training services in a comprehensive variety of aviation sectors.

We are proud to be one of the leading suppliers for turn-key solutions in the aviation and aircraft retrofit industry and look forward to supporting your future projects and needs.
---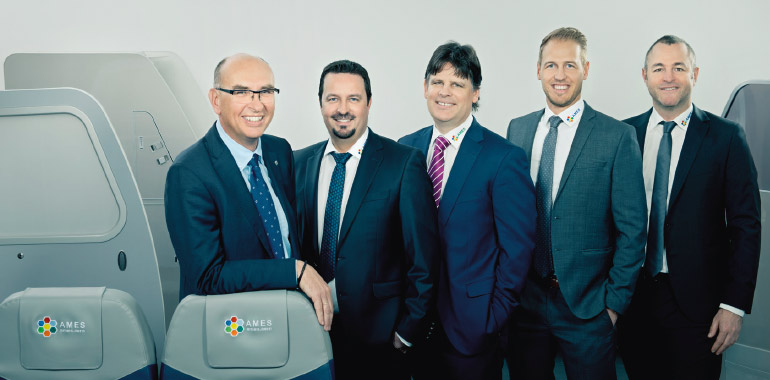 Walter Starzacher
/ President of the AMES Group
Daniel Maier
/ Managing Director of AMES DOA and AMES POA
David Tierney
/ COO AMES Ireland
Michael Ziegerhofer
/ Director Customer Support and CVE Interiors
Jonathan Turner
/ Key Account Manager and CVE Structures
(from left)