See us in Hamburg at the AIX, 06 - 08 June 2023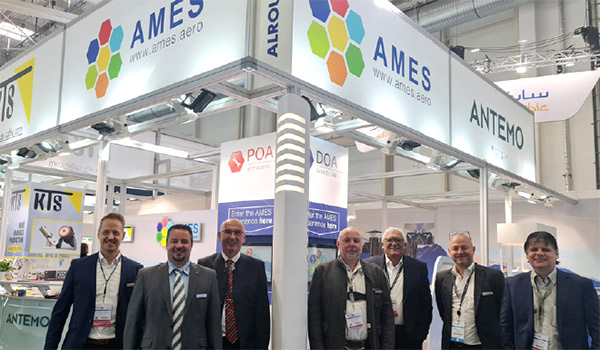 Visit us in Hall B6, Stand 6A40. Our Customer support & management team is very much looking forward to welcoming you at the AIX in Hamburg. There will be some of our newest products on display and our team will be available for meetings at our booth.
Enter the "AMES experience" through our interactive presentation explaining our true one stop shop philosophy.

Please make your meeting reservation via services@ames.co.at.
---
A320 MCD Extension Program
Following a successful Customer First Article Inspection (FAI) at the AMES facility in Peggau Austria, we are in the final stage delivering Moveable Class Dividers (MCD) kits and associated MCD extension kits for a fleet of 135(!) Airbus A320 aircraft.
The program engineering & certification was completed in record time and production at the AMES facility is currently ongoing with the majority of shipsets already delivered overseas.

With a dedicated team of experienced engineering and production staff we took on the challenging project timeline, we were able to manage several supply-chain issues along the way and delivered both engineering and hardware fully in time and budget.

The AMES team are very happy and proud of supporting another major Airline in the Americas with our services.
---
AMES STC Privilege Extension for Cabin modifications and first AMES STC Validation by Malaysian CAA
Obtaining the privilege to issue certain Supplemental Type Certifi cates (STC) under Subpart E and approve certain major changes to those certifi cates was a major milestone for our team in the recent past. Since then, several AMES STCs have been issued for cabin reconfiguration projects on various aircraft types.

We are happy that we recently completed the first validation of an AMES STC by the Malaysian CAA.

The AMES STC privilege covers:
- Cabin Layout Changes Affecting 16g Seats and HIC
- Cabin Layout Changes Affecting Monument
- Cabin Layout Changes Affecting Exit Areas or Aisle Width