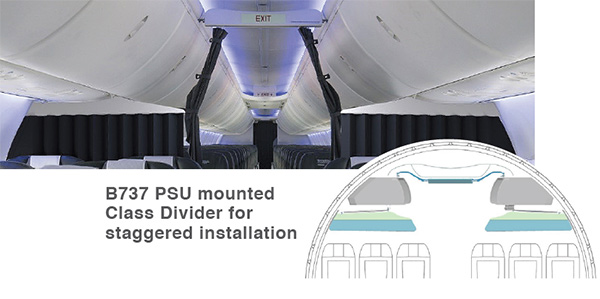 Our latest interior product development offers a flexible class divider solution for asymmetrical cabin configurations like a typical 189 layout on Boeing B737s. The product is available for Boeing NG Interior and Boeing Sky Interior (BSI) cabin lining. PSU mounted side panels are picking up existing PSU rails and can be installed without further modifications to the aircraft. The center aisle header can be mounted to a number of predefined locations in the forward tapered cabin section and account for staggered LH and RH seat positions.
Various colour schemes and other corporate branding related customizations are available.
The past two years have brought many unexpected and challenging situations for the entire Aviation and Travel Industry, worldwide. Unfortunately, some of these are expected to continue into the new year. Despite the challenging circumstances across the industry, supporting you, our customers, with the required flexibility and high-quality services, remain to be core values for the AMES Group.
We will continue to provide our excellent services and to work with our partners to achieve their goals and standards into 2022 and beyond.